A snorting Raja set to take on a muted Dhumal head on !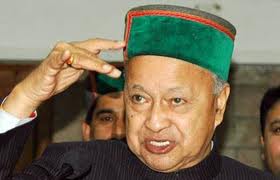 Shimla : Quitting as union minister Tuesday Virbhadra Singh has now set his eyes firmly on the next assembly polls in Himachal Pradesh later this year .These tidings may stir mixed emotions in the ruling BJP here .
Veteran Singh has adopted an unusually aggressive posture and has sworn to take on chief minister P.K.Dhumal saying he is setting sail from Delhi to the hills of Himachal ahead of the polls .
It looks certain now that the next few months offer an exciting prospect for political observers as arch enemies the Congress and the BJP prepare for battle .
Except Virbhadra Singh looks like a hurt lion making him dangerous to his opponents while the PK Dhumal led BJP looks somewhat jaded and tired after being in the saddle for close to five years now .
Singh(popularly called Raja in Himachal due to his royal background as a boy king of the former state of Rampur Bushahr) .
He has been a former five time chief minister , Singh told the Delhi media Tuesday that he plans travelling the length and breadth of the hill state and taking his fight to the people .
Observers here say his popularity cannot be questioned . This was evident from the fact that a rally in Shimla organised to celebrate his 50 years in public life last week had 21 out of 23 Congress MLAs standing with him .
Political pundits say despite the taint of quitting as union minister Singh is a grassroots leaders and could charge up the voters in Himachal .
His supporters say if Singh leads an aggressive Congress election campaign and manages to oust the BJP Sonia Gandhi may have to consider installing Singh as chief minister .
Interestingly , no party has ever repeated a term in Himachal Pradesh's politically volatile history .
It now claims to have the highest literacy rate in the country , the highly aware voter naturally has high expectations from the party in power and always shuns the ruling party .
Congress factions led by three other leaders will be watching Singh's humiliation and loss of job in New Delhi with glee .
But they also fear Singh's popularity and will carefully watch his next moves back home ahead of the polls .
Observers say state Congress chief Kaul Singh has failed to emerge as the unchallenged leader .
Union commerce minister Anand Sharma is a great success as trade minister but his critics are quick to point out that Sharma is not a mass leader back home and has never won a Lok Sabha election .
Then there is Vidya Stokes close to Sonia Gandhi but Stokes is already over 85 and has of late walked into Singh's political camp .