64 per cent voter turnout in Shimla civic polls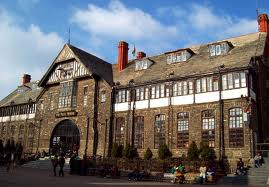 Shimla : The Shimla municipal corporation elections saw a good turnout of voters on Sunday , according to poll officials around 64 per cent voters cast their ballot .
The Tuttikandi and Nabha wards saw the largest turnout  , while it was lowest in the posh areas of Chotta Shimla and Kasumpati wards .
Polling officials said polling was peaceful . Counting takes place early Monday and the results are likely to be declared by afternoon .
It was a hectic election campaign for the BJP , Congress and the CPIM .
The mayor and deputy mayor are being elected directly for the first time .
There are a total of 25 wards , with 12 wards being reserved for women for the first time .
The civic polls have attracted huge interest this time largely due to direct elections of the mayor and deputy mayor .
Congress has been holding on to power since 1986  when the committee became a corporation .
The Shimla civic body is one of the oldest in the country and was founded in 1851 .
These outcome of these elections is seen as significant as assembly polls are due in the state later this year .
Election officials have released ward wise voting details :
No          Ward Name        Votes         Cast       Percent
1               Bharari                  2155        1462      67.84
2              Ruldu Bhatta      3610       2276      63.05
3              Kaithu                  2561       1761       68.76
4              Annandale            2695      1820       67.53
5              Summer Hill        2704       1911        70.67
6              Tutu                      3563        1811        50.83
7              Boieluganj          4202       2883      68.61
8              Tutikandi            2309       1725       74.71
9              Nabha                  2516        1811        71.98
10            Fagli                      2739       1796      65.69
11             Krishnanagar     3513        2430      69.17
12            Ram Bazar            3300       2196      66.55
13            Lower Jakhu        2541       1608       63.28
14            Jakhu                    2285       1473       64.46
15            Benmore               1840        1127        61.25
16            Engine Ghar        2620        1703       65.00
17            Sanjauli Chowk  2849        1800      63.18
18            Dhalli                    2786        1913       68.66
19            Chamyana            3227        2291      70.99
20            Malyana               4010         2452     61.15
21            Kasumpati           4425         2477      55.98
22           Chotta Shimla      6125          3317        54.16
23           Patyog                    4992         2897      58.03
24           Khalini                   3626         5443      67.37
25           Kalnog                    2763         1852      67.03