387 kg rotten chicken found in Shimla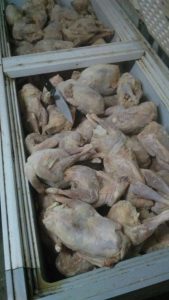 Shimla : Civic body officials on Wednesday raided a shop in the state capital's subzi mandi and confiscated 387kg of chicken which was illegally smuggled into the hill station last night.
"The chicken seemed to be stale and even had fungal presence," said Tikender Panwar deputy mayor Shimla.
A sample of the stale chicken has been sent to the veterinary lab for testing. While rest of the chicken has been destroyed," said Panwar.
The operation was conducted during in the morning
when information was received at midnight a van of chicken was smuggled into the city.
The Shimla Municipal Corporation has constructed a modern abattoir which works under the supervision of able vets.
"The smuggled chicken is believed to be dead chicken which is bought cheap and there are chances of it being stale and infected. To avoid this the Shimla Municipal Corporation does not allow open slaughtering of birds," said an official.
Civic body officials have assured to keep strict vigil in the future and to deal with offenders strictly who play havoc with people's lives.