SJVNL targets 8700 million units energy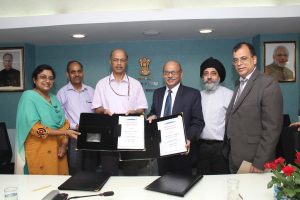 Shimla: In the current fiscal state run SJVNL plans energy generation of 8700 million units with an expected revenue from operations of Rs. 2300 crore.
This will include profit before tax of Rs 1050 crore from its 1500 MW Nathpa Jhakri Hydro Power Station, 412 MW Rampur Hydro Power Station in Himachal Pradesh and 47.6 MW Khirvire Wind Power Project in Maharashtra.
It also includes targtets for signing of Concession Agreement for Kholongchu Hydro Electric Project in Bhutan.
An MOU to this effect was signed between Pradeep Kumar Pujari, Secretary (Power), Govt. of India and R.N. Misra, CMD, SJVNL this week in New Delhi.
SJVN has also signed MoUs with its subsidiaries SJVN Arun-III Power Development Company Private Limited (SAPDC) and SJVN Thermal Private Limited (STPL).
Incorported for implementation of 900 MW Arun-III Hydro Electric Project in Nepal and 1320 MW Buxar Thermal Power Project in Bihar respectively on July 7, 2016.