3 foreign paragliders dead in 3 weeks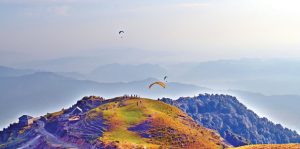 Shimla:A Japanese man Makota Sukoma(38) died after crashing into a mountain while paragliding in Himachal Pradesh's Bir Billing in the last three weeks three foreigners have died here.
"Sukomo took off in Billing on Friday afternoon but lost control off the glider and crashed into a hill side," Sunaina Sharma a local government official said.
"Locals and police found him seriously injured and rushed him to a nearby hospital(at Palampur) where he was declared dead on arrival. The doctor said he had sustained head injuries," Sharma said.
A 42 year old Russian paraglider was killed on Nov 1(Tuesday) when his glider crashed soon after taking off.
"Nikolai Udin's glider got entangled in power transmission lines after which he fell into a deep gorge.By the time his fellow Russian paragliders and police reached him he had died," P S Thakur a senior police official said.
The six paragliders had taken off from Bir Billing a day earlier.
On Oct 15 a 48 year British paraglider had died after his paraglider crash- landed in the Jhatingri hills not far from Bir Billing.He was rushed to hospital but died there.
In Nov 2015 an Uzbek paraglider aged 23 died in the area. In Nov 2013 a British 50 year old man and an Indian 31 year old died.
In 2009 two Russian pilots(paragliders) went missing. While one of the bodies was found soon after the other body was located a year later by shepherd in the remote mountains.
Bir Billing overlooks the scenic Kangra valley and is one of the top paragliding sites in the world.
It hosted the Paragliding World Cup in 2015.The Indian National Open Air Paragliding Accuracy Competetion is scheduled from Nov 11 to Nov 14 this year.