18 dead in Himachal river plunge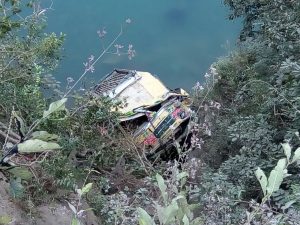 Shimla : At least 18 people were killed and 24 injured when an overloaded bus plunged into the Beas river in Himachal Pradesh's Vindravani in Mandi district some 155 km from here on Saturday.
Fourteen people died on the spot while the rest died on way to hospital a police officer at the spot said..
The accident spot is barely 3 km from Mandi town.The surviving passengers blamed the driver who they alleged was overspeeding.
Truckers near the accident site were the first to reach the spot and pull out the injured and dead.