25 school kids injured in Himachal bus accident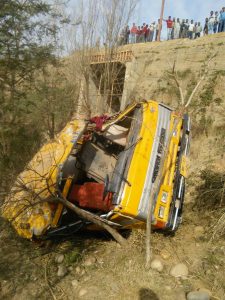 Shimla : At least twenty five school children were on injured Friday when their mini bus swerved off a mountain in Himachal Pradesh's Mandi district police said.
The accident took place around 8:40 am at Dehar near Sundernagar.
"Police along with locals pulled out the children after it rolled down 50 feet and overturned. All have been admitted to a nearby hospital in Sundernagar. Two are seriously injured and have been shifted to a bigger hospital in Mandi town," Sanjeev Bhatia DSP said.
There were over 30 children in the mini bus and locals say the vehicle was overcrowded.