CII for breaking truckers monopoly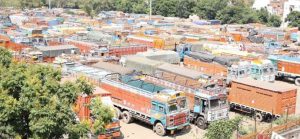 Shimla : The Confederation of Indian Industry (CII) on Wednesday appealed to the Himachal government to look into the alleged high freights being charged by truck unions in the state.
The CII has also demanded that the industry should be allowed to ply their own vehicles freely to ferry goods.
In a statement here the Chairman, CII Himachal, Sanjay Khurana, claimed freights charged in certain sectors is as high as 40 per cent as compared to the normal market rates. Exporters from the state are the worst sufferers, he said.
He urged the company-owned goods transport vehicles should be allowed to carry goods within or outside without any restrictions.
The CII alleged that the monopolistic trade practices of the truck unions are discouraging fresh investments in Himachal and also bringing down state's score in ease of doing business rankings.
The truck unions could not be contacted for their reaction.