World Bank nod for re-tendering Himachal's Theog-Hatkoti road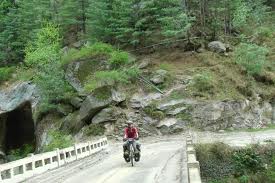 Shimla : The World Bank has given its approval for the  much delayed widening work of the Shimla-Hatkoti road , top government sources said here Wednesday .
The World Bank has issued a grant of Rs 174.82 crore for the converting the 48 km Theog-Kharapathar road into a double lane highway .
The state government has now sought permission from the World Bank to invite fresh tenders for the second part of this road the 32 km long Kharapathar-Hatkoti stretch .
Top officials said the tenders will be opened in June and by September work is expected to start on the Theog-Kharapathar stretch .
In 2008 the widening work of this road had been awarded to Longjian Road & Bridge company a state run Chinese firm. But work was delayed due to several reasons . Finally the state government cancelled the contract to the Chinese firm last year.
This 80 km road is in very poor condition as the entire 80 km stretch has been dug up for many years . This has caused a lot of inconvenience to locals particularly farmers.
Over 60 per cent of the state's apple produce is shipped on this road .