Will Shimla MC , Himachal PWD fill potholes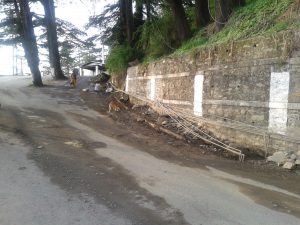 Shimla : Almost three weeks into April and there almost no sign of tarring of roads in the state capital. And where work has started it is going on at a snail's pace .
After all the mindless digging work all winter work should have begun to repair and tar the roads in March .
When Sun Post asked the state PWD officials and the municipal corporation staff they said there was no cause for worry and there is still time for the rains to set in.Others said work may not happen as they are helpless due to the model code of conduct in force.
The code is only a poor excuse to avoid work yet again by the babus . Why work when salaries and benefits can never be taken away .
But here and there work has started to repair a few roads . One notable road is the Chotta Shimla-Kasumpati stretch via Brockhurst .
Despite a private contractor and the state PWD jointly doing the work it is progressing at a very slow pace .
Each day barely 10 to 20 metres of tarring of the dug sections on the edge of the road is done.
They say the cause of delay here is the occasional spring shower or the shortage of bitumen .
The entire stretch can actually be done in a day if the tarring material is transported by truck . Instead it could take a month .
Buses have already been banned because of the work on this traffic busy route .