Himachal Guchi mushroom for Rs 11,000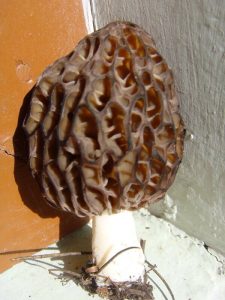 Shimla : It could be a good year for the rare and much sought after wild guchi mushroom this year , guchi finders say .
The first supplies of this grey mushroom have entered markets of Himachal Pradesh including the state capital Shimla .The starting price is Rs 11,000 a kilo which is around Rs 1000 more than last year .
The price shoots up after it leaves the hill state.The demand is huge in the catering business in top hotels in metropolitan cities .
Besides its good taste experts say it is also rich in protein and other nutrients .
The guchi mushroom cannot be grown.It sprouts in the wild and is found in moist shady forest floors, orchards , yards and meadows .
Guchi finders set out in late March with sling bags looking for this wild mushroom . Some remain away for weeks and return with bags full .
Guchi is not immediately sold .The mushrooms are strung in a thread like necklaces and dried for a few days .This reduces the moisture and is now ready to be eaten .
Guchi is often bought by buyers directly from farmers in their villages who then sell it at a higher price in markets across the state and northern India .
Although this mushroom has been around for ages the state government has no figures about how much Guchi is found here. There are no figures of the estimated revenue it brings to locals .
The popular saying in the hills is if the spring in the hills is wet with frequent thunderstorms Guchi bursts in plenty .It is found only during a few weeks .
In Himachal it is found in the hills of Shimla , Kinnaur , Kullu , Sirmaur , Chamba districts among other places.