Vodafone launches M-Pesa in Himachal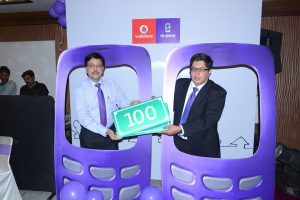 Shimla :Enabling money transfer via mobile SMS Vodafone on Tuesday launched M-Pesa in Himachal Pradesh in collaboration with ICICI bank , company officials said.
"To start with the facility will be available in 3 districts through over a 100 company agents and 5 exclusive stores. The entire state will be soon covered by this facility," said Suresh Sethi , business head Vodafone.
Vodafone has been in the state for the last four years.It has 5.5 lakh mobile customers and is only behind Airtel and BSNL in the overcrowded mobile market which has half a dozen players .
The company has a network of 9000 retailers and 25 exclusive Vodafone stores across the state.
"Customers can now deposit and withdraw cash. Money can be transferred to any mobile in the country. One can even shop and pay utility bills among other services," said Sethi.
"M-Pesa is targeting education , industrial hubs ,tourists , and migratory labour in apple orchards and vegetable growing areas," he said .
"M-Pesa empowers people without bank accounts to gain financial services," Sethi said .
According to RBI guidelines a maximum of Rs 5000 every day and Rs 25,000 every month can be transferred by M-Pesa facility.