Who will win Himachal's Theog & Nahan seats !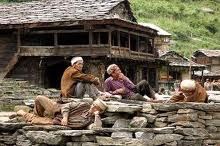 Shimla : Theog and Nahan are easily the most tough and the most interesting assembly seats to watch among the 68 seats in the upcoming elections on Nov 4 in Himachal Pradesh .
Strong candidates are fighting in both these seats which are set for multi-cornered close and exciting contests .
Theog lies along the Hindustan Tibet highway in the state's apple and vegetable belt in Shimla district .
Here arch rivals veteran Congress leader Vidya Stokes and Rakesh Verma of the BJP are ready for their last fight as this could be Stokes(85) last election .
But this time there are two other strong claimants battling for this seat , veteran CPM leader Rakesh Singha and Pramod Sharma of the TMC the youngest of the four who is a university professor .
Until recently Verma was in the lead in his campaign , but with the Congress rally a few days ago things have changed say observers .
Having mended ties with Congress party chief Virbhadra Singh ,At the rally Stokes who is seen close to Sonia Gandhi even went to the extent of backing Virbhadra for the chief minister's post .
Virbhadra who is spearheading the Congress fight has this time completely backed Stokes which could spell bad news for the other three candidates here .
But there is no stopping the CPM's fiery leader Rakesh Singha who is aggressively campaigning with his fluttering red flag in Theog , his supporters say he could emerge as the dark horse .
Interestingly Singha is a close relative of Stokes , both hail from Kotgarh the oldest apple growing area of India . Also Stokes is the daughter-in-law of Samuel Stokes the American who brought delicious apples to India .
Nahan nestles in the Shivalik foothills in Sirmaur district and is another interesting seat to watch .
Congress has again fielded Kush Parmar , he is the son of Dr Parmar , Himachal's first chief minister .
Parmar takes on Shayma Sharma of the HLP(Himachal Lokhit Party , Sharma and others a year ago left the BJP and formed the HLP. Then there is another strong candidate in the fray a former Nahan MLA Sadanand Chauhan of Paswan's LJP.
The BJP has fielded Rajeev Bindal who has moved to Nahan from his old seat Solan which has been declared a reserved seat.
Even though Bindal is being described as the outsider in Nahan , his campaign is the most aggressive and he could spring a surprise say many .