Vinod Mehta: The Outsider Editor,but the best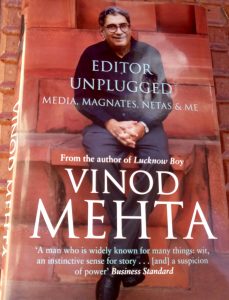 After the passing away of Khushwant Singh last year I recall Vinod Mehta said he was not influenced by any Indian editor except perhaps Khushwant.
Imagine if Mr Mehta had followed the other editors  (of the so called golden era)he would not have been able to carve out a niche for himself in Indian journalism in the last forty years.
The Pioneer under him was like a breath of fresh air. It was like no other daily in the country a world class paper. Outlook remains the country's most lively news weekly.
Both publications under him were bold, anti-establishment, controversial,provacative,varied and always readable.
In this second volume of his memoirs(Editor :Unplugged) Mehta takes on the iconic editors of the 60s, 70s and 80s.
"The single besetting vice the editor-icons suffered from was an exaggerated sense of self-importance,a kind of narcissim.They really believed they were running the country——-Girilal Jain did not blush for a second when he declared he wrote for only two people in the country the PM and one other person. he didn't care about the rest."
Mehta says under their watch apart from politics and sport, no other topic received much attention.
"Newspapers thirty years ago may not have been short on gravitas, but they were exceedingly boring. Humour was a taboo, so was any kind of stylish writing."
Mehta says, he was dismissed as an outsider,an interloper who did not understand serious journalism.Worse he was accused of trivialising it.
He says to use the first-person pronoun 'I' in a column was considered sacrilege.But the arrival of Khushwant Singh put an atom bomb through such notions.
"They never considered him to be a real journalist and dismissively attributed the runaway success of the Illustrated Weekly under him to the naked women he featured in his journal."
"If memory serves me right,most of these gentleman wore reading glasses as thick as boulders.They carried books which could be used as door-stoppers.These were serious men who took writing on politics very seriously," he says.
When Mehta told Girilal Jain about his problem,'To write on politics,' he declared, 'you first have to understand the grammer of politics.'
"The advice did not not solve my problem,it added to them.What the hell is the grammer of politics? The phrase stuck in my throat.I hated it.In the forty years of journalism, I have never used it."
Mehta confesses, "I started reading both the Delhi and Bombay editors with care.Frankly it was not easy.I had difficulty beyond the first two paragraphs.The text may have been profound,scholarly and supremely in the national interest,but it was wittingly dense and convoluted.One could read an entire piece of 1200 words and ask:'What was that about'."
When Mehta asked Khushwant about traditional editors dismissing him as a shallow person and his political writing situated between the inconsequential and the titillating.
Khushwant said, 'Have you tried to read Sham Lal?' He asked. 'He is unreadable'. He said foreign publications like The New York Times and the Guardian regularly invited him to contribute political columns. 'They don't ask Sham Lal,' he said bitchily.
Luckily Mehta followed the new journalism of Tom Wolfe and Normal Mailer, more so Mailer.
"I took to Mailer at once.He broke all rules of journalism as we knew them and yet his piece is unputdownable.The author metamorphosed into the central figure of a narrative in which objectivity was cavalierly jettisoned.He also made generous use of the pronoun 'I'."
Mehta further says, Mailer took the journalism manual and tore it up.He mixed,reportage,opinion,conjecture and prejudice.
C P Scott, who gave the profession its stone-written mantra,'News is sacred, comment is free', was not available for comment.
Mehta says one thing got deep into into my skull:whatever sage and urgent message I wished to communicate,I had to ensure I did not bore the reader— and also did not feel shy to add style to my prose.
Vinod Mehta stands out as an outsider, thank god for that. Without him most of the journalism in India would have perhaps remained dull and boring,it still is largely so.
And as regards this biography, just like volume I(Lucknow Boy) volume II(Editor : Unplugged) is fascinating to read. It offered a lot of insights and also made me laugh loudly many times. What more do I need,thank you Mr Mehta !