SJVN inks pact with 6 power firms to tap coal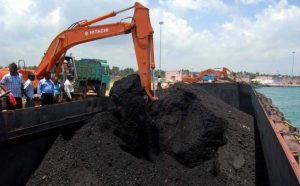 Shimla :State run power company Sutlej Jal Vidyut Nigam(SJVN) has signed a MoU with government power companies of six states for the formation of a joint venture for mining of the Deocha-Pachami coal block.
Shimla based SJVN signed the agreement with power companies of West Bengal,Bihar, Uttar Pradesh,Karnataka , Tamil Nadu and Punjab for forming a memorandum association, a spokesman of SJVN said here Thursday.
The Deocha-Pachami coal block in the Birbhum district of West Bengal has been jointly allocated to SJVN and six state run government power generating companies by the union coal ministry in 2013.
The coal block is spread over 1230 hectares and is estimated to have coal reserves of 2102 million tones which is the largest coal block in the country.
The estimated investment of about Rs 12,000 crore will take place in the mining operations.
An official said coal mined from the block will be used in the 1320 MW Buxar thermal power project in Bihar.
The coal block will sustain the thermal power projects of 11000 MW for 25 years.
SJVN is already operating India's largest 1500 MW Nathpa Jhakri hydro power station, and another tandem based (with NJHPS) 412 MW Rampur hydro power station in Himachal Pradesh.It has also moved into wind and solar energy.