Shimla police's baffling traffic board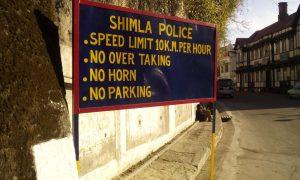 The traffic police has recently put up a confusing board for commuters near the Himachal Pradesh secretariat.
The board tells commuters and drivers to drive at 10 km an hour speed. Not to park, overtake or blow the horn.
But Shimla police does not tell you why to follow these instructions.
Why hasn't the police said these instructions are to be followed as the state secretariat is less than 100 m ahead.
You get the impression that these traffic rules are to be followed indefinately. This confuses is very both the local and the tourist driving on this busy highway.
Why is the message incomplete?