The Sound of Music : a musical classic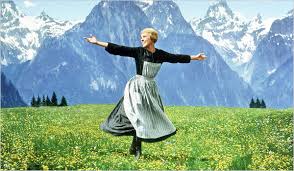 A true story , an old world film , and a very European film . And yet strangely it resembles a hindi film as it has so many songs which help this three hour epic glide by .
Set in spectacular Austria in the golden years of the late 1930s . The Sound of Music (1965) stars Julie Andrews as Fraulein Maria . She is the irrepressible governess to the seven children of Captain Von Trapp played by Christopher Plummer .
The most popular songs are 'The sound of music', 'My favourite things', 'Climb every mountain', 'Sixteen going on seventeen' and 'The lonely goatherd'.
One of the biggest box office hits of its era it is equally refreshing almost fifty years later .
America's Library of Congress picked this film for preservation in the national film registery calling it culturally , historically and aesthetically significant.
 Every family must see this timeless classic as it will fill you with warmth , melody and joy .