Soldier body found in Himachal after 45 years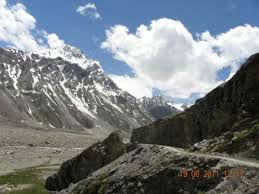 Shimla : Some 45 years after an Indian army transport aircraft crashed in the remote Himalayas of Himachal Pradesh killing all 98 soldiers on board , the body of one soldier has been recovered , a spokesman of the Indian army said Saturday .
"An expedition of the Indian army mountaineers(Dogra scouts of the Western command) returned on Friday with the body of a soldier who died in the plane crash in Feb 1968,"said the spokesman.
"The mortal remains of the soldier were recovered at an altitude of 18,000 ft on the Dhakka glacier in tribal Lahaul & Spiti district of Himachal Pradesh on 22 Aug  after a 45 years and six months ,"the official said .
"The soldier has been identified as a non commissioned officer , havaldar Jagmail Singh of Corps of EME,"he said.
"His identity was established by an identity disk , an insurance policy and a letter from his family which was found in his pocket," he added .
"The body will be flown to his native village(Meerpur) in Rewari(Haryana) for last rites with full military honours,"the spokesman said .
In 2003 the debris of the ill-fated aircraft was accidentally discovered by an expedition team at Dhakka glacier.
Since then three search missions till 2009 recovered four more bodies . The latest search operation started on Aug 13 this year to locate more bodies and a flight recorder(black box) and found one body on Aug 22.
The aircraft made last radio contact near Rohtang pass and then appeared to have vanished into thin air in Feb 1968.