Solar irrigation makes a good start in Himachal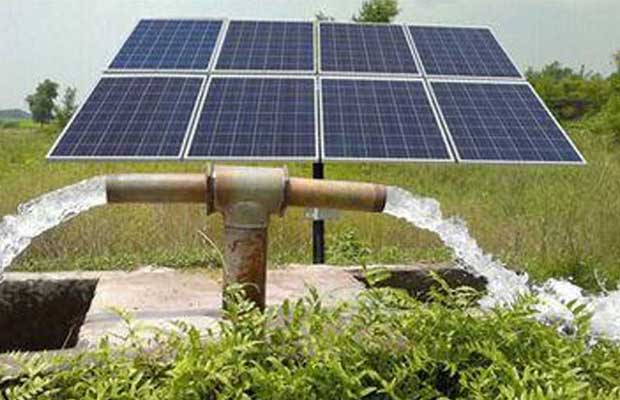 Shimla : The solar irrigation schemes have proved successful in reducing the pressure on traditional energy sources, as it is environment friendly and cost of installation is also less.
Under the Solar Irrigation Scheme, necessary infrastructure is being established to lift water from solar pumps in the state. A provision of 90 percent assistance is provided to small and marginal farmers for individually installing pumping machinery for irrigation.
80 percent assistance is also made for middle or big farmers to install pumping machinery at individual level. For installation of pumping machinery at community level, 100 percent expenditure is being borne by the government for farmers of all categories.
A budget of Rs 200 crore has been made for five years under this scheme, under which 5,850 solar pumps will be installed across the state. Presently, 1189.71 hectare land of the state has been brought under solar irrigation scheme . About 1,210 solar pumps have been installed in the state which has benefited 2066 farmers of the state. In the year 2019-20, Rs 1958 lakh was spent on this scheme.
Several farmers have benefitted from solar powered irrigation scheme in various districts of the state, which include 570 in district Kangra, 406 in Mandi, 66 in Bilaspur, 144 in Chamba, 131 in Hamirpur, 13 in Kinnaur, 73 in Kullu, 71 in Lahaul and Spiti, 165 in Shimla, 108 in Sirmour, 51 in Solan and  268 farmers in Una.
Under PM KUSUM Yojna, a provision of 85 percent financial assistance for pumping machinery has been made for setting up of solar pumps at personal and community level by farmers.  In present financial year, a provision of Rs. 12 crore has been made under the scheme. A target of setting up one thousand solar pumps has been set during this year, for which 50 percent expenditure would be borne by Centre Government and 35 percent by State Government, whereas 15 percent would be borne by the beneficiary.
Farmer can apply for providing assistance under the scheme in Sub division at Land Conservation Office. The farmer has to submit land respective documents, self attested ration card, photocopy of adhaar card, land certificate and affidavit. For further information regarding the scheme the farmer can contact the nearest sub divisional land conservation officer, Agriculture Officer of Block Development Office, Deputy Director Agriculture or office of Director Agriculture.