Shimla's Ridge dug up again by civic gangs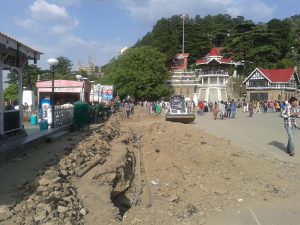 The fragile Ridge in downtown Shimla has been dug up again by the civic authorities in the space of three weeks . Causing concern as it is already a sinking area.
Officials of the clumsy Shimla municipal corporation say this has been done due to leakage of pipe connecting the giant tanks below the Ridge .
The digging has been again carried out deep and crude manner point out many locals.
A long stretch facing the Padam Dev shopping complex towards Lakkar bazaar has been dug up.Last month another stretch nearby was dug up in a similar manner.
Questions are being asked why wasn't the source of the water pipe leakage properly identified the first time so that there was no need to disturb the area again .
Almost every year the Ridge which is a popular promenade for tourists and locals sinks on a when it rains heavily.
Most of the Ridge sits above giant water tanks built during the colonial British era which supply water to most of the hill station.
The sinking Ridge often stirs panic among residents living lower down the hill in case of major earthquake or landslide which could trigger a deluge down the hill and wreak havoc downhill .
The Lower bazaar, Ram bazaar among other places are some of the most thickly populated areas of Shimla .
The Shimla,municipal corporation is set to build over 50 shops below the Ridge saying it will strengthen the sliding area. But many say this will only add to the weight of the fragile hillside and lead to further slides.