Shimla to host Vibhor Literary Festival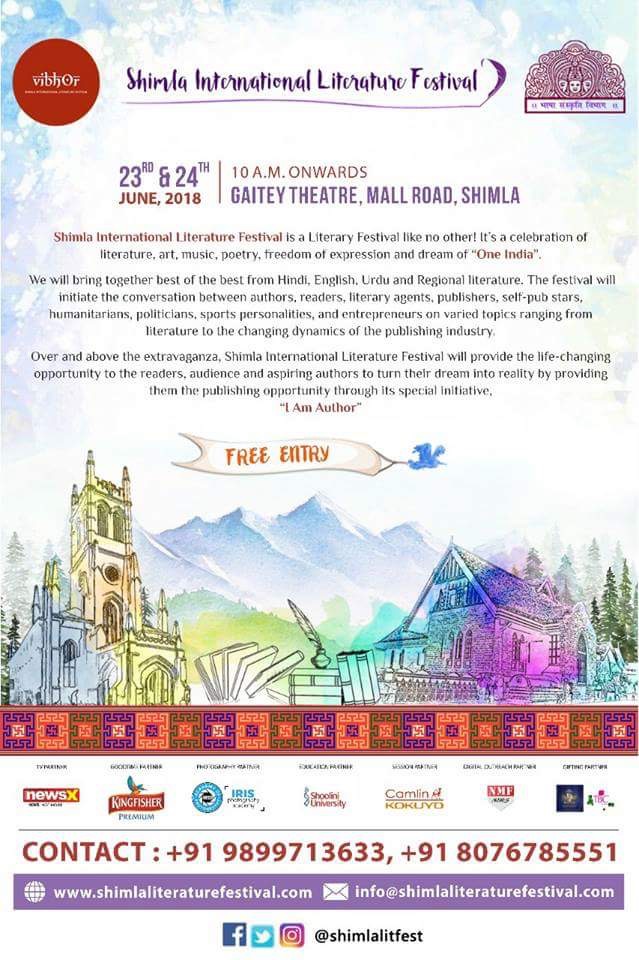 Shimla's literary circles are getting ready to witness the biggest literary festival the town has seen for a long time. The first VIBHOR-Shimla International Literature Festival will take place at the Gaiety Theater on the Mall from June 23 to June 24, 2018.
The festival promises to draw writers, artists, academics, scholars, publishers, politicians from India and abroad each year,organisers say.
It will be inaugurated by the Himachal Chief Minister of Jai Ram Thakur .
Over the span of 2-days 24 events and activities are planned. It will feature workshops, book readings, talks, panel discussions, debates, book launches and cultural performances.
This time the theme of the festival will be 'One India'. "We will try to bring together the best minds of Hindi, English and Regional literature from within and outside India," the organisers said on Monday.
The festival will initiate the conversation between authors, readers, literary agents, publishers, humanitarians, politicians, and entrepreneurs on varied topics ranging from literature to the changing dynamics of the publishing industry.
The festival will start with the Curtain Raiser Ball which will have 80-100 exclusive personalities including renowned authors, celebrities, state officials, publishing stars and our partners. The ball is strictly by invite only.
Over and above the extravaganza, this festival is providing the publishing opportunity to aspiring authors through it's special initiative, 'I Am Author'.
The event will have prominent media houses, both print and electronic, covering the event and a planned strong promotion of the event will be done through hoardings in prominent locations within Shimla City and nearby regions.
Some of the notable guests will be Jai Ram Thankur (Chief Minister. HP), Shatrughan Sinha, Rajdeep Sardesai, Sudeep Nagarkar, Pankaj Dubey, Bharathi S Prasad, Hansda Sowvender Shekher, Sushant Singh (Savdhan India), Anirban Banerjee, Suhail Mathur, Shuchi Singh Kalra, Sanjeev Paliwal, Anant Vijay, Arpit Vaghera, Rajaa Bhasin, Neelima Chauhan, Chitra Desai, Sudarshan Vashishta, Shehzad Poonawalla, Tejinder Pal Singh Bagga, Salman Nizami, Tuhin A. Sinha, Andaleeb Wajid, Jahanavi Prasad and so on.
The festival will also have Bharatanatyam recital by Arupa Lahiry, poetry sessions by Kaafia and Rudabha, Dastangoi, and classical music.