Shimla Oak jungle cut as Himachal govt naps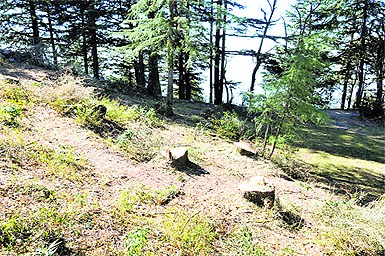 Shimla :The illegal cutting down of trees in a forest at the edge of the state capital Shimla has left people shocked, even as the Himachal government is waking up to the damage done.
The alleged systematic cutting down of hundreds of oak and pine trees took place earlier this week with talk of a luxurious hotel or a palatial property being planned in the forest clearing.
The police and the forest department awoke from their slumber only after the damage had been done and much of the cut wood had been removed from the spot.
The spot can clearly be seen from Shimla and is located next to the popular Tara Devi temple complex at the top of a Ridge.
The thick Tara Devi forest lies on the west of Shimla town and is one of the lungs of the hill station the other is the Kufri forest in the east.
A case has been lodged against the owner of the patch of land who hails from Punjab and is allegedly related to a powerful Congress politician in that state.
The response of the Congress ruled Himachal government has been evasive and confusing.
The state forest minister Thakur Singh Bharmouri has been typically dismissive.He is playing down the incident.
Equally casual has been the response of the state forest department. So far a deputy ranger and a lowly forest guard have been suspended.
A day after the tree felling incident came to light the National Green Tribunal(NGT) issued notices to the state government and the owner of the land to appear in court.
Now once again there is concern that the state government has failed to protect its forests. Questions are being asked how was a powerful person allowed to chop down trees under the gaze of the entire state government.
Environmentalists and courts have rapped the successive Congress and BJP governments for failing to protect forests in the past.
Also in recent decades thousands of acres of forest land have been illegally cleared of rich forests across the state and people have taken over the government land and converted it into private farmland.
Instead of ejecting encroachers the state government over the years has regularised these encroachments by providing electricity and water connections to law breakers.