Shimla gets first water ATM unit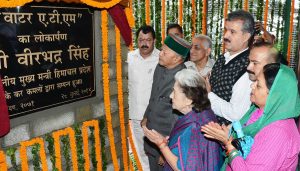 Shimla's most popular spot for holiday makers the Ridge now has a water ATM dispenser for the benefit of both tourists and locals .
The Piramal water ATM unit was thrown open to the public by the state chief minister Virbhadra Singh here Monday.
Piramal Sarvjal has signed an agreement with the Himachal government to run this water ATM on no profit no loss .
"Every time this facility dispenses water, the user saves at least Rs 9 and the Shimla civic officials will have one plastic bottle less to dispose off," an official of the Piramal said.
The cost of every litre of filtered water dispensed from the water unit will only be 50 paise.
"Shimla is one of the ten most popular tourist destinations in India. Most tourists use expensive plastic drinking water. This ATM will try to cut down use of plastic bottles here," said the official .
While the state government has provided water access and space at the site and Piramal will run the water unit .
Plans are to open more such water ATMs at the old bus stand and Vikasnagar. Also at Dharamsala , Mandi and the Chintpurni temple.