Himachal roadways to add 20 Volvo, 50 AC buses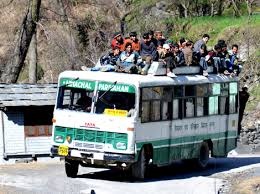 Shimla :The Himachal Roadways Transport Corporation (HRTC) is set to buy 20 new Volvo and 50 AC buses.
While flagging off the two AC buses from Dharamsala to Chandigarh and Chamba to Shimla state transport minister G S Bali said Sunday that these 70 luxury buses will join the HRTC fleet shortly.
"It has also been decided that now the bus fare for AC buses will be only 15 per cent more than ordinary buses to cover higher fuel and tax costs," Bali said.
"With the coming in of 50 new buses more tourist destinations will be covered," he said.
HRTC has recently added 500 new buses . Some 800 more buses under JNNURM are expected in instalments.
In the near absence of railways and air connectivity roads are the lifeline of the hill state . With a fleet of 2200 buses HRTC connects some of the remotest corners of the state, often at the cost of losing money.
Private buses number is more than state roadways buses but they mostly operate in profit making urban routes .