Rogue Shimla cops still at large , residents outraged by inaction !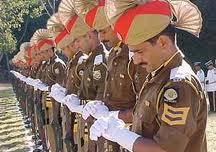 Shimla : The brutal beating of a local youth by rogue policemen in Shimla's lakkar bazaar at midnight a couple of days ago has left people shocked in this quiet Himachal Pradesh capital .
The incident took place on the last day the Shimla summer festival after midninght when policemen went on a rampage .
A resident of Sanjauli , this lad (Ravi Thakur) questioned why the four policemen were beating four men .
The angry rogue policemen apparently could not tolerate the audacity of this boy who dared ask them such a simple question so they attacked him .
They first dragged him on the road and into the lakkar bazaar police station and then beat him mercilessly and continuously .
Later they dumped him outside the police station .The poor fellow only had the energy to call up his friends for help .
When he was taken to hospital doctors said the beating had taken a heavy toll and Thakur had been left with severe injuries including several fractures on his leg where the policemen struck him with canes .
The next day the boy's mother , the local councilor and other citizen groups met the SP , DC and SHO Shimla , but no action has been taken .
According to local media reports the Shimla SP and SHO have ordered an inquiry  but have been accused of trying to protect the culprit cops .
Local television channels showed a bored looking SP and SHO hardly attending to complainants urging them to take action .
The opposition has been criticised for not standing up against such incidents .
Many say the meek Congress hasn't even issued a statement against this incident .
But it remains to be seen if citizen groups like the Shimla citizens forum( Shimla nagrik sabha) will agitate as they have threatened if no action is taken by the committee looking into this despicable incident .