Pollution checks on Manali-Rohtang road : SPCB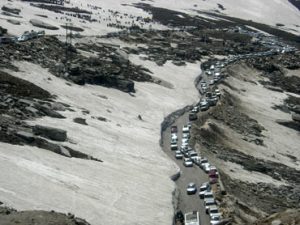 Shimla : An official of the the State Pollution Control Board (SPCB) said here Saturday that since the National Green Tribunal (NGT) had passed directions to various state government departments to prevent traffic congestion and environment degradation in the Rohtang area due to tourist activities.
So on the direction of NGT, the Board has taken various steps to check pollution in the area, the official said in a press release.
He said that random checking of vehicles with the help of the Transport and Police officials were being conducted on regular intervals by organising vehicle checking camps at Marhi, Kothi, Beas Nalla and Rohtang.
He claimed that ambient air monitoring was also being conducted at four locations at Vashisth Barrier, Gulaba, Marhi and Rohtang and the reports have been found within the limit.