Crowded Shimla mulls odd-even car formula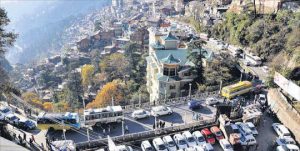 Struggling with congestion and traffic jams in the narrow, winding mountain roads of Shimla the civic officials could adopt the odd-even formula of Delhi.
"We will watch the Delhi experiment with a lot of interest and could adopt this policy in Shimla," City mayor Sanjay Chauhan said.
Shimla has a population of over 2 lakh .There are 60,000 registered vehicles in the hill station.
The number of vehicles swells on weekends and holiday seasons with the arrival of a large number of tourist vehicles from outside the state.
The National Green Tribunal has recently ordered a number of ways to decongest Shimla including trying out one way traffic on the cart road(circular road).
Since then civic and other state government officials are desperate to find ways to decongest the town's choked roads.
Interestingly only 9 per cent of the residents travel by private cars. 46 per cent use public transport and a whopping 45 per cent walk.The percentage of walkers is easily the highest in any state capital of India.