Modi mocks Manmohan Singh in Himachal poll rally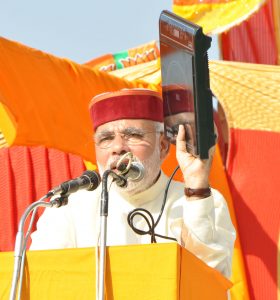 Shimla : With the election campaign entering its last phase in poll bound Himachal Pradesh the BJP flew in Gujarat chief minister Narendra Modi Monday who launched an attack on prime minister Manmohan Singh calling him forever silent , 'Maun-Mohan Singh'.
This a day after Manmohan Singh addressed his maiden election rally in the hill state at Una . Modi was responding to the prime minister's allegation that the BJP had neglected Himachal in the last five years and failed to spend funds from the Centre .
"Today the big news is that at least 'Maun-mohan' Singh broke his silence .Until now his silence has insulted the common man ," Modi thundered at a large rally in Mandi .
Modi blamed the Centre for being particularly unkind to a cold state like Himachal Pradesh by limiting the use of subsidised LPG cylinders .
He complimented the Dhumal government for promising free cooking heaters if the party is voted to power again .
In the mid 1990s as incharge of Himachal Pradesh affairs Modi promoted P.K.Dhumal and sidelined senior state BJP leader Shanta Kumar .