MC cleans Shimla Lift nullah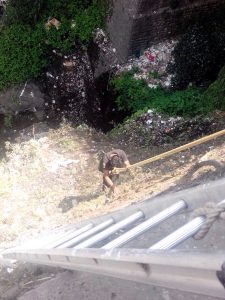 The Shimla municipal corporation cleaned the dirty stream flowing below the Combermere bridge at the edge of the Tourism lift in the heart of Shimla on Sunday.
Deputy Mayor Tikender Panwar said MC cleaners and Home guards reached this very difficult spot with the help of ropes and ladders.
Over time this stream becomes a dumping ground for dumping plastic packets and other garbage by tourists on the Mall.
Thousands of people cross the bridge every day.The tourist Rush has also picked up in the last few weeks in the hill station.
Civic officials said due to rise in temperature a stink had begun to emanate from this spot and residents in the area complained to the civic body.