Mandi Landslide : 45 bodies found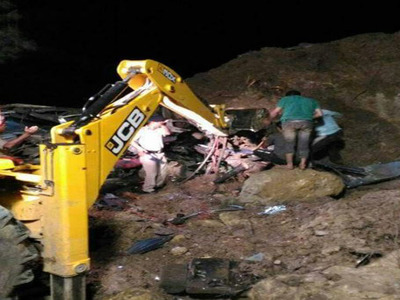 Shimla : 45 bodies have been found by Sunday evening as the search operation continues for the missing into the night in Himachal Pradesh's Mandi district after a massive landslide swept away two buses.
"So far we have found 45 bodies.The search for the missing is continuing," Sandeep Kadam a senior government official at the spot said.
The buses had stopped at a way side eatery for tea at Kotrupa when the steep hill side came sliding down sweeping away an entire stretch of the Manali-Mandi-Pathankot highway in Mandi district some 200 km Shimla.
"According to last telephonic conversation with the bus driver last night the bus was full to capacity with passengers," said G S Bali the state transport minister.
A local villager said the landslide swept away his house, livestock and belongings. The entire family managed to save their lives and took shelter in the nearby jungle at night.