Manali tourist arrivals hit hard, lax govt blamed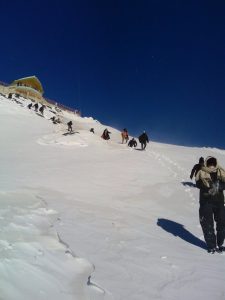 Shimla :Himachal Pradesh's Manali has seen one of the lowest arrival of tourists this winter. The lean spell is likely to continue well past the usually busy new year season.
Even though Manali was covered in snow for Christmas the hill station had very few tourists this time.
Majority of the bookings were cancelled ahead of the Christmas and New Year due to several reasons earlier this month.
An early heavy snowfall on Dec 13 paralysed this popular resort town with roads connecting it blocked for several days.
But what shocked holiday makers and locals most in Manali and other resorts in the scenic Kullu valley was the electricty crisis.It took amost a week to restore power in the Manali and other adjoining towns.
The sudden snowfall also took thousands of tourists by surprise on way to the 13,050 ft high Rohtang pass. As authorities struggled all night to rescue them to Manali.The last batch of some 30 people were brought to Manali after many days.
So a nervous police chief in the region issued a warning urging tourists to keep away from snow bound Manali as it was taking very long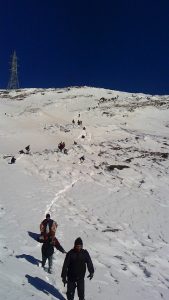 to restore power and road links in the entire Kullu valley.
This followed a spate of hotel cancellations. According to one estimate over half the hotel bookings in Manali were cancelled.There are over 600 hotels in Manali and nearby places.
Business people are upset with the government for over reacting and issuing an advisory asking tourists to keep away from the Kullu valley.
They say instead of focussing on restoring electricity and clearing snow covered roads the government appealed to tourists to keep away.
Not wishing to be named they said this had caused huge damage to their business in the peak winter season.
Realising its mistake top officials of the state Tourism department and the state run Himachal Pradesh Tourism Department Corporation(HPTDC) have been issuing statements for the last two days that all essential services have been restored in Manali and tourists should feel safe to return. But no one seems to listen as the new year dawns!