SJVN to build Gujarat solar,wind plant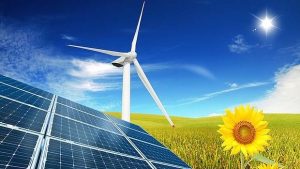 Shimla based Sutlej Jal Vidyut Nigam(SJVN) will build operate and maintain the solar and wind hybrid renewable energy park in Kharaghoda, Gujarat.
This proposed park will be developed on the surplus salt pan land of Hindustan Salt Limited (HSL) and will generate 3500-4200 mw of solar energy and 600 – 800 MW wind energy.
An MoU was signed by SJVN chief R.P. Singh and HSL chief A.K. Jain at SJVN's Delhi office Tuesday.
At the initial stage, SJVN will also develop roads, drainage system, power supply, water supply system, evacuation arrangement from the plot to evacuation sub-station.
" SJVN is already in process of setting up a 5 mw solar pv project at the Charnka solar park in Gujarat. It will generate 8.10 million units of clean and green solar energy," Singh said.
SJVN has already signed an MoU to build and operate the 4000 mw ultra solar project in Sambhar in Rajasthan.
SJVN has already entered the field of wind energy with the development of 47.6 MW Khirvire wind power project in Ahmednagar ,Maharashtra.
The project is fully commissioned and is generating wind energy from all its 56 wind energy turbines with a capacity of 850 kw.
SJVN is operating India's largest 1500 MW Nathpa Jhakri hydro power station, and the adjoining 412 MW Rampur power project in Himachal Pradesh.