Love in Simla : with Sadhana & Joy Mukherjee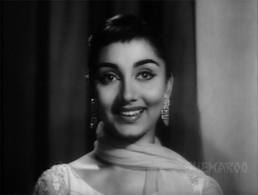 Shot on location over half a century ago , Love in Simla has recorded Shimla of the late 1950s in black and white .
The film captures the Mall road and the Ridge in detail . We see the long gone hand pulled rickshaw pulled by Joy Mukherjee and the dainty Sadhana enjoying the ride.
It captures the now rare wooden railings and fences. There is the extinct steam engine toy train puffing up the hills as Joy Mukherjee sings his way to Shimla falling over often in his bogey with excitement .
Sadhana and Joy are seen singing and running at Naldehra golf course and in the snows of Kufri just like Shammi Kapoor in Junglee .
There is also the foggy and mysterious Shimla in this light hearted early film of the Sadhana and Joy which shot them both to fame .
Love in Simla is also remembered for the fringe hairstyle of Sadhana which became a rage as 'Sadhana cut'.
There must be close to a dozen songs . Music is by Iqbal Qureshi and the Director is R K Nayyar who later married Sadhana .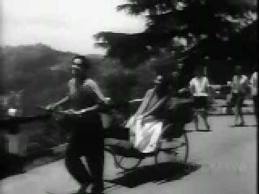 Some of the better songs are Dil Tham Chale Hum Aak Kidhar(Rafi), Dar Pe Aaye Hain Tere Kasam Se(Mukesh), Haseenon Ki Sawari Hai (Rafi & Kalyanpur) .
 Alif Zaber Ah(Rafi) , Love ka Matlab hai pyar (Rafi & Asha Bhosle) and Gaal Gulabi hain kiske hain (Rafi), Muskurayen Khet Pyasa Tarse( Rafi & Suman Kalyanpur).