Himachal asks finance commission Rs 12,466 crore special package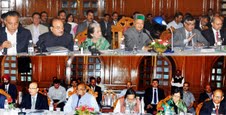 The Himachal Pradesh government on Tuesday urged the 14 th finance commission chairman Padam Vibushan Y Venugopal Reddy for providing Rs 12,466 crore as special grant for the state .
The state has asked the commission Rs 1430 crore grant for forest wealth management Rs 4750 crore for revenue management .
Rs 2521 crore for disaster management , Rs 1425 crore for local bodies and Rs 2340 crore for state special grants .
State chief minister Virbhadra Singh told commission that the intangible benefits from forests needed to be quantified as was being done in other parts of the world.
"Indirect benefits from forest wealth of Himachal were about Rs 99,000 crore and the revenue foregone for being unable to remove forest as per working plan was over Rs 22,900 crore for six years," Virbhadra said .
The commission was told that over 95 per cent of the total 23,000 MW hydro-power capacity potential has been allocated and upfront money received .
Virbhadra said the cap fixed by the 13 th finance commission that the salary expenditure should not exceed 35 per cent of the revenue expenditure , net pension and interest payment was far away from reality .
The debt liabilities of the state were 39.18 per cent of GSDP and were almost double of all states average of 20.55 per cent .
The commission was requested to consider the state's debt stress and bail the state of its financial situation.