Kalka-Shimla toy train timing changes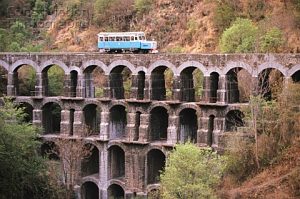 Shimla: Train timings on the world famous Kalka-Shimla railway track will change Oct 1, 2016.
The Himalayan Queen will leave Shimla at 10:25am and reach Kalka at 4:10pm. The rail motor car will leave Shimla at 4:55pm and reach Kalka at 9:25pm.
The Shivalik Express will now leave Shimla at 5:50pm and reach Kalka at 10:35pm. While the mail departure time will be 6:30pm and reaching time 11:30pm.
Changes have also been made to some trains leaving uphill from Kalka. The rail motor car departure time from Kalka is 5am and reaching time at Shimla will be 9:20am. The Shivalik Delux will leave Kalka at 5:20am and reach Shimla at 10am. While the passenger train will leave at 3:30am and reach at 8:55am.