Photographers explore new age visual media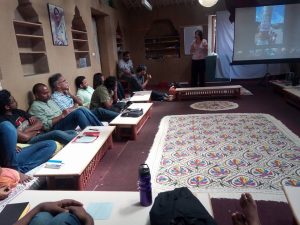 Shimla: Over 30 photographers and activists from across India gathered at Palampur's Sambhaavnaa Institute for a five day photography and multimedia workshop which ended on Saturday.
The objective of the workshop was to help participants explore and effectively use the possibilities of new age visual media in documenting and reporting of social issues.
One of the resource persons of the workshop was Sumit Dayal a renowned photo jouranalist trained at the ICP (International Center of Photography) in New York.
He has worked as a freelance photographer, covering Afghanistan, India, Nepal, Bangladesh and Bhutan. His work documents the plight of societies, disappearing cultural traditions and changing landscapes of South Asia.
Ruhani Kaur has worked as a photo-documenter and photo-editor of a News weekly magazine and she spoke on her work on female feoticide in Haryana and her sessions were focussed on photo editing for magazines.
Amirtharaj Stephen is an Tamil photographer based in Bangalore, India. He is currently documenting the anti-nuclear protests around his native village in Tamil Nadu.He spoke about looking at problems on the ground and the ethics of photo journalism
The participants went through various lectures, collective dialogues and brainstorming sessions with mentors and fellow participants.
Sambhaavnaa Institute has been organising youth trainings and workshops on social issues since the last 5 years. "We have conducted close to 80 workshops on various subjects and have reached out to a range of people across the country as an alternative educational space", said the Sambhaavnaa team