Andi Seewald wins Hero MTB 2106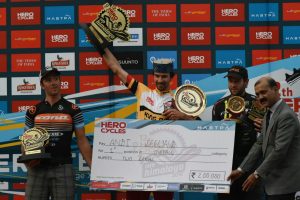 Shimla : The nine day, eight stage race, Hero MTB Himalaya concluded on Monday with Andi Seewald wining the King of Himalaya title.
Seewald took 27:23:59 to complete the 575 km race traversing across four districts and two ferocious rivers. He was trailed by Cory Wallace who was the former King of Himalayas. Cory completed the race in 27:55:15.
Open Women Solo was won yet again by Catherine Williamson. She took 33:07:14 to complete the race. John Jack Funk conquered the Grand Masters Solo title by completing the race in 47:52:43. Indian riders were on the roll too. Devender topped the Indian category followed by Shiven.