Jaisi project goes to HPPC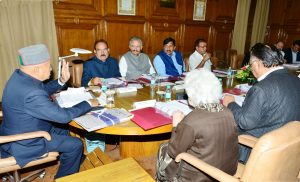 Shimla : The 528 MW Jaisi hydel electric project has been awarded to the state run Himachal Pradesh Power Corporation(HPPC).
Th state cabinet which met here Wednesday also approved the re-allocation of Satluj Jal Vidyut Nigam Ltd. (SJVNL) proposed stage-I (219 MW) and Stage-II (143 MW) Luhri, hydro electro project in favour of SJVNL.
Nod was also given for incorporation of the company Kishau Corporation by the Himachal Pradesh government in a joint venture with the Uttarkhand government in equal participation to execute Kishau Multipurpose Project (660 MW).
The cabinet also approved the revised Eco-Tourism Policy-2016 to make Himachal a leading eco-tourism destination, with eco-tourism attracting at least 10 per cent of overall tourists visiting the hill state by 2030.
However, before bidding the department will have to obtain Forest Clearance (FCA).