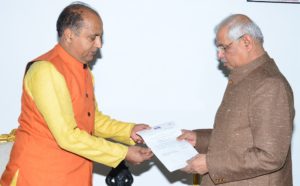 Shimla: Outgoing Chief Minister of Himachal Pradesh Jai Ram Thakur reached Raj Bhavan at 3:15 pm today and submitted his resignation to the Governor. The Governor has accepted the resignation.
The Governor, as advised by the Council of Ministers, has dissolved the Himachal Pradesh Legislative Assembly with immediate effect.
He has requested the present government of the State headed by Jai Ram Thakur to continue in office and discharge its functions till the new Legislative Assembly is constituted and the new government is formed on the basis of the results of the general elections.
A notification has been issued in this regard from the Raj Bhavan.
According to latest reports in a house of 68 members the Congress has won 40 seats, the BJP could only win 25 seats while 3 went to independant candidates.