Himachal temples have Rs 178 crore gold,silver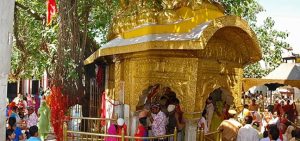 Shimla :Government controlled temples across Himachal Pradesh jointly own gold and silver worth Rs 178 crore.
State revenue minister Kaul Singh told the house Saturday that there are 29 such temples run by the government.
The total value of four quintals and 73 kg of gold is Rs 126.91.While 158 quintals and 81 kg of silver is estimated at Rs 51.88 crore.
The minister said since these temples cannot convert these valubles into souvenirs before checking the possible adulteration levels.
The exact purity can be ascertained only with the help of the Metals and Minerals and Trading Corporation (MMTC).
"The government will soon sign an agreement with MMTC for purification of all the gold and silver lying in these temples," Kaul Singh said.
There is a proposal to spend 10 per cent gold for the upkeep and development of all government run temples .
While 20 per cent can be invested in the State Bank of India's gold bond scheme. Another 20 per cent be retained as reserve of these shrines.
And the remaining 50 per cent can be minted for souvenirs including coins and mementos, the minister said.
The Chintpurni temple in Una district with 1.72 quintals of gold and 59 quintals of silver is the richest in the state.Chintpurni also received cash donations of Rs 84.04 crore between 2011 and 2013, Kaul Singh said.
The Naina devi temple is the second richest, with 1.48 quintals of gold and 56 quintals of silver. Apart from cash offerings of Rs 50.61 crore in three years.
The Jawalamukhi and Brajeshwari Devi temples have 37 kg and 28 kg of gold respectively while the income from offerings is Rs 25.38 crore and 12.61 crore in three years.
The Baba Balak Nath, Chamunda Devi, Mahamaya Balasundari and Bhimakali temples have 22 kg, 15 kg, 11 kg and 3 kg gold.
The minister said all the 29 temples have been included in schedule 1 of the Himachal Pradesh Hindu Public Religious Institutions and Charitable Endowments Act of 1984 and are managed by temple trusts.