Himachal Red Cross marks special day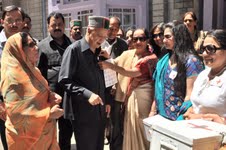 Shimla : Led by honorary secretary of the Himachal Pradesh Red Cross Hospital Welfare section Poonam Chauhan and other office volunteers had a hectic day Wednesday on the occasion of 150 years of humanitarian action .
 Volunteers spread over all over the state capital and district headquarters urged people to donate for the welfare fund .
 Volunteers began the day by pinning up flags to state governor Urmila Singh at Raj Bhawan .
 The Governor appealed to the people to donate generously towards the Red Cross for creating a sustaining resource pool to carry forward its humane activities.
 These include providing assistance to the sick and those affected by natural calamities.
 The Governor congratulated all the members and volunteers of the Indian Red Cross Society , state unit for its efforts in strengthening the movement .
 Red Cross is celebrating 150 years of its existence all over the world . The theme this year is '150 years of humanitarian action'.
 Later , the state Red Cross unit also met chief minister Virbhadra Singh who flew into Shimla from Delhi.
 "All district Red Cross branches in the state were doing a commendable work in providing succour to the deprived," the chief minister said .
 He also stressed the need to further expansion of activities and appealed to people to donate generously .