Himachal monsoon so far kills 24,142 animals , loss Rs 2892 crore
Shimla : The monsoon fury so far has this season has left 50 persons dead in Himachal Pradesh. Also 24,142 animals have perished , the state chief minister Virbhadra Singh said here Wednesday on the opening day of the monsoon session in the state assembly.
The monsoon was extremely heavy between June 15 to June 17 when the state received 576 to 1376 per cent rainfall above normal .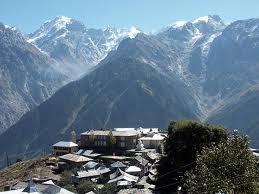 The 24,142 animals including sheep , goat, cattle and mules died due to the heavy rains , he said .
Also 5287 housing structures  have been fully or partially damaged across the state . The overall loss to private property is around Rs 200 crore .
A total of 4377 roads have also been damaged . The losses on this account is assessed at Rs 1221 crore . A section of the national highway in tribal Kinnaur has also been washed away .
Kharif crops on 20,573 hectares of land has been affected resulting in a loss of Rs 200 crore .
In tribal Kinnaur district there has been extensive damage to fruit crops which has been assessed at Rs 302 crore spread over 81,458 hectares , the chief minister told the house .