Himachal cancels ropeway MoU with Punjab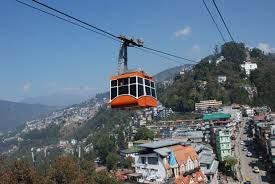 Shimla : The Himachal Pradesh government has cancelled an agreement signed with neighbouring Punjab to build a ropeway connecting the two holy shrines of Naina devi andAnandpur Sahib located on both sides of the border .
This state cabinet which met here late Tuesday gave its approval for cancelling the MoU which was signed by the previous BJP regime in the state a year ago.
It has been decided to call expression of interest (EoI) for setting up of this project with-in the state through PPP mode .
The cabinet approved for outsourcing of bridges from package-1 Mehatpur-Una-Jhalera-Amb road to package-2 Una-Bangana-Badsar road . This has been done due to escalation of cost of the second project .
A nod was also given for online declaration of inter-state movement of goods amendment of the state VAT rules.
Now besides manufacturers and dealers of iron , steel , plywood and sun mica , those dealing in medicine , electrical items , edible oils , marble , furniture and timber will have to declare their goods under e-declaration .
The cabinet also gave its approval to revise operational guidelines of apple rejuvination project. It was also decided to allow apple procurement of apple in 60 kg bags under market intervention scheme this year .
From next year procurement will only be done only in 18 kg bags and crates.
The motor vehicle act for implementation of fitting all commercial vehicles with vehicle tracking system(VTS) in the state .