Himachal expansion nod to 10 units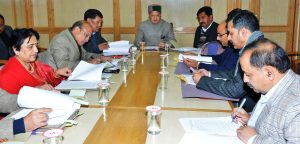 Shimla : The Avisha Group of Industries has been given permission for manufacturing of dry Wall Putti in Karsog area of Mandi district.
The Himachal government has also given approval for expansion of nine industrial units. The total proposed investment of Rs. 107 crore.
The units are Emmbros Autocomp for manufacturing of auto spare parts.United Biscuits making butter, cashew and biscuits.
Next Star Digital for manufacturing of DVD and CDR.Slitted Confectioned sensitized photographic paper.Isolloyd Engineering Technologies. PU (Unit-II) for Polyurethane Sandwich panels.
Lloydeck Sheetings, Rockwool Sandwich panels and insulation products, Pharma Force Lab Unit-II for Pharmaceutical Products, ITC Limited for making of soap,shampoo, cream and lotions.
Kundlas Loh Udyog for manufacturing of Angle Chanel, Steel Ingots, Micropet Containers INC for pet bottles HDPE bottles, PP caps measuring caps and Atul automotive safety glass industries for manufacturing of automotive safety glass have been approved.