Has Himachal govt diluted Skill Dev Scheme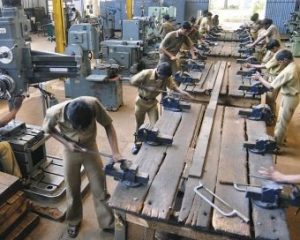 Shimla :The ruling Congress in Himachal  on Thursday decided to carry out changes in the skill development scheme which it promised in its election manifesto a year ago.
Now the minimum age limit for the eligible youth from 18 to 16 years . The minimum educational qualification has been reduced from matriculation to 8 the class .
An educated unemployed applicant can apply for the grant of allowance along-with the prescribed documents to the employment exchange where the applicant is obtaining training.
The Cabinet approved to reduce VAT from 4 to 2 percent on sales of goods made through CSD canteens to military and ex-military personnel in the state.
It approved raising the honorarium of Anganwari workers to Rs 2500 per month from July this year.
The decision was taken that the power of all four hydro electric projects being executed by HPPCL will be disposed of through long term Power Purchase Agreements (PPA's) as is being done by Central Power Sector Undertakings (CPSU's) .
It was decided to allot Sissu (0.80 MW) and Limphu (2.75 MW) small hydroelectric projects in Lahaul-Spiti district to Chandra Valley Hydro Power Projects Cooperative Society Limited and Awa-II (2 MW) SHEP in district Kangra to Him Power Projects.
The cabinet also gave approval for fragmentation of 70 MW Harsar hydroelectric project in three stages having capacities of 30 MW, 22 MW & 18 MW.
Approval was also granted for fragmentation of 45 MW Bharmour HEP for implementation in two separate stages of 22.5 MW each.
The cabinet gave approval for consultancy services for detailed feasibility study and preparation of detailed project report for three traffic tunnels of Bangana-Dhaneta, Holi-Utrala and Bhbbujot.
Approval was also given to offer Bangana-Dhaneta tunnel on Built Operate & Transfer (BOT) basis to private parties by inviting International Competitive Bid (ICB).
It gave its consent for the proposal of sharing the cost of Bhanupalli-Bilaspur-Beri railway line project as decided by the Cabinet Committee on Economic Affairs (CCEA) in 2008.
It also agreed to bear half the project cost of Chandigarh-Baddi new rail line as the Railway Board has proposed to fast track this line by including it in A-2 category.
It decided to impose ban on felling of species of trees of Poplars, Eucalyptus, Albazzia, Bahuna, Willow and Mulberry in private land.