Governor launches PM TB Mukt Bharat Abhiyan at Sangla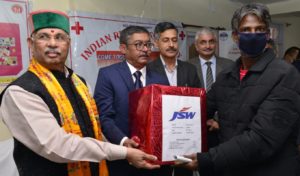 Shimla: While launching Pradhan Mantri TB Mukt Bharat Abhiyan from Sangla in Kinnaur district on the occasion of birthday of Prime Minister Narendra Modi, Governor Rajendra Vishwanath Arlekar TB will be eradicated from Himachal Pradesh in one year.
To achieve the goal of eradication of the disease, Himachal Pradesh was the first TB Free state in the country. He said the tribal district of Kinnaur has been selected to start this campaign.
The Governor said some difficulties occurred due to Corona period in achieving the goal of elimination but now this goal has to be achieved.
He said it was the collective responsibility of the entire society to check TB and help them by speeding up the TB free campaign. He expressed contentment that the corporate sector and big businessmen have come forward to contribute in this direction and adopting TB patients for treatment.
He said the State Red Cross was also making an important contribution in this direction.
The Governor appealed to everyone to adopt one person suffering from TB and took the responsibility to help them in providing all assistance.
Currently there were 12.30 lakh TB cases in India. The total TB notification rate in 2021 in Hinachal was 191 cases per lakh population. Total TB cases in 2021 in the state were 14492,   out of which 2.6 per cent were in tribal areas, 74 per cent in rural and 23.4 percent in urban areas.
The Governor said JSW Hydro Energy was doing good work for eradication of TB in the district.  He expressed happiness that the company has adopted 10 TB patients.  He urged them to adopt the entire district and said that it would be of great help in this direction.
The Governor also distributed 'Poshan Kits' provided by JSW Energy Baspa Plant to the beneficiaries. He also distributed Health Kits.