LED rath flagged off by Jai Ram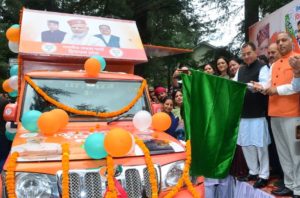 Shimla: Himachal Pradesh Chief Minister Jai Ram Thakur, on the occasion of the birthday of Prime Minister Narendra Modi, flagged off LED Rath of BJP from Oak Over Shimla today.
He wished Prime Minister Narendra Modi on behalf of the people of the state on his birthday with good health and a long life. He said that the birthday of the Prime Minister was being celebrated as Seva Pakhwada.
Jai Ram said the LED Rath Abhiyan has been started to effectively take the policies, schemes and programs of the Centre and state government to the people of the hill state.
Through this campaign, the developmental programs and welfare schemes of the government will be publicized in all the assembly constituencies.
He said all-round development of the state was being ensured by the multi-faceted efforts of the state government. Efforts were being made for equitable development of every area and every section.