Governor Arlekar at border village Chitkul

Shimla: Himachal Pradesh Governor Rajendra Vishwanath Arlekar today visited the border village of Chitkul in Kinnaur district. He interacted with the people of the village.
Earlier, on reaching Chitkul, the local people accorded a rousing reception to the Governor. He circumambulated the local temple and went to the house of Mukesh Negi, a local resident, to learn about the local traditions. He saw traditional tandoor, traditional food and customs closely. He also enjoyed the local cuisine.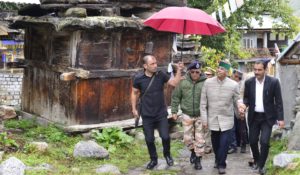 Speaking on the occasion, the Governor said the traditions and customs here were very rich, which should be preserved at all costs. He said it was his good fortune that he has got the opportunity to come here and understand the hardships of the people living in the mountains from close quarters.
He appealed to the people to pass on the local products and traditions to the future generations.
Pradhan, Chitkul village Subhash, Vice-Pradhan Rajesh Kumar and other prominent people were also present on the occasion.