BJP blames Congress for Himachal fiscal woes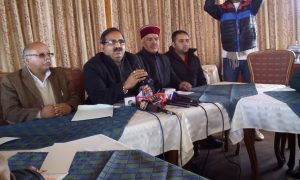 Shimla : The opposition BJP on Saturday attacked the ruling Congress government in Himachal Pradesh blaming it for the rapidly deteriorating financial health in two years of its rule.
"The Virbhadra led Congress government has not taken any steps to check unnecessary expenditure.This has badly hit development work in the state," BJP's state unit general secretary Randheer Sharma told reporters here.
"The Congress has made no efforts to generate resources, particularly in the rich hydel power sector which can bring in much needed revenue," he said.
"Instead the Virbhadra government has appointed a large number of chairmen, vice chairmen, parliamentary secretaries and advisors in various state government departments and companies.This is only draining the state exchequer," Sharma said.
"A virtual army of 25 additional advocate generals have been appointed.Their salaries and bills eating into the meagre state funds," he said.
Citing figures he said the fiscal deficit has risen sharply.Besides capital outlay for development had shrunk.The rising debts of the state have further added to the mounting liabilities," he said.
The Congress on the other hand has been hitting back accusing the BJP of being equally negligent of the poor fiscal health when it was in power.