World Bank plan mooted to decongest Shimla
[social_icon profile_type="rss"]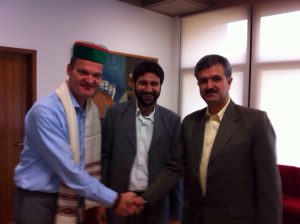 Shimla :The World Bank on Thursday has come close to funding an ambitious plan which aims to decongest the popular hill station of Shimla.
The plan aims to build traffic tunnels, ropeways and widening pedestrian paths to decongest the town which over the decades has become very overcrowded.
The congestion is heightened by the steep Himalayan terrain and narrow winding roads. Added to this is the big increase in tourist traffic flow round the year.
"A fruitful discussion was held with top World Bank officials to de-congest Shimla.The bank has promised to fund long term sustainable solutions in the field of urban transport," deputy mayor Tikender Panwar told Sun Post by phone from New Delhi after the meeting on Thursday.
The Shimla municipal corporation team is led by mayor Sanjay Chauhan.The Shimla civic body set up by the British is one of the oldest in the country.
Recently a World Bank team visited the town and invited the civic body for detailed discussions in the bank's country chief in Delhi.
The Shimla civic body will now prepare a detailed plan which will be sent to union economic affairs ministry.